News > The New Honda Brio Sedan launches in South Africa
2018-08-30 10:30:55
Much More Space with all the Pace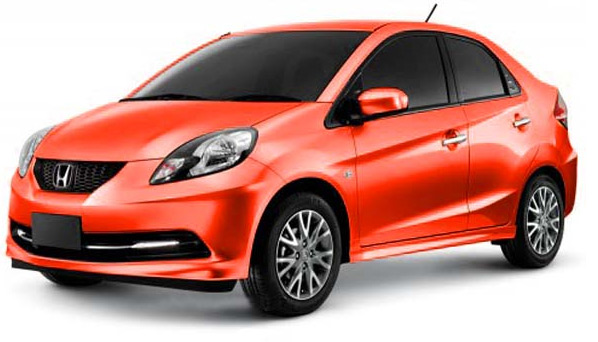 Just 6 months after the debut of the Honda Brio in South Africa, Honda has extended their range to include a more spacious Honda Brio Sedan. With the Honda Brio already renowned for its zippy performance, exceptional efficiency and outstanding value, the Honda Brio Sedan goes one further with a larger interior and luggage space. With its 55mm wheel extension Honda has managed to achieve even more legroom in the rear with a 405 litre boot capacity and making it practical and attractive for young families.
The Honda Brio Sedan retains its economical 1.2 litre i-VTEC with a generous 65kW and 109 Nm of torque at 4500 r/min. The new Brio Sedan's fuel consumption is as low as 6,1 l/100 km for the Trend 1.2 manual.
However the main feature of the new Brio is its luxury interior with increased leg- and headroom. The rear doors are wide-opening and ensure an easier access compared to its 2 door predecessor. A rear centre armrest with integrated cup holders is installed for extra comfort, and the generous levels of equipment and instruments, even on the Trend model, ensure ease of drive, and comfort.
The Honda Brio Sedan continues to offer the safety features expected from Honda, with ABS brakes, dual front airbags and Honda's Advanced Compatibility Engineering (ACE) body structure ensuring excellent occupant safety. The Brio Sedan will be offered in two model variants, the 1.2 Trend or the 1.2 Comfort in either manual or automatic.
"The Brio hatchback really took the market by storm when we launched in early December last year," says Graham Eagle, director of automobiles at Honda Motor Southern Africa.
"It brought Honda's famed quality and reliability within the reach of a broader audience, while introducing a vibrant energy and youthful appeal to the brand."
Eagle says that while the hatch is specifically targeted at young and trendy motorists, many of them first-time buyers, the sedan extends the nameplate's reach to include young, style-conscious families with an appetite for the four-door's extra space and practicality.
"Compact sedans are growing in popularity, and the expanded Brio range will provide an affordable, economical and visually vibrant option for young family buyers seeking a spacious, contemporary and well-equipped four-door saloon."
"We're also extending the appeal of our Brio hatch with the addition of a new, entry-level Trend model to augment the exiting Comfort variant. We're convinced that this will allow even more motorists to share in the Brio magic," Eagle concluded.
The new Honda Brio Sedan is keenly priced and includes a two-year/30 000 km service plan, and a three-year/100 000 km warranty.
1.2 i-VTEC Trend Manual R128 900
1.2 i-VTEC Comfort Manual R136 900
1.2 i-VTEC Comfort Automatic R146 900
The Honda Brio Sedan is available from all Mekor Honda Dealerships throughout South Africa. Contact your local Honda dealer today to arrange to test-drive.